Sprouts: Faith Meditations by Artists, Poets & Writers- extended deadline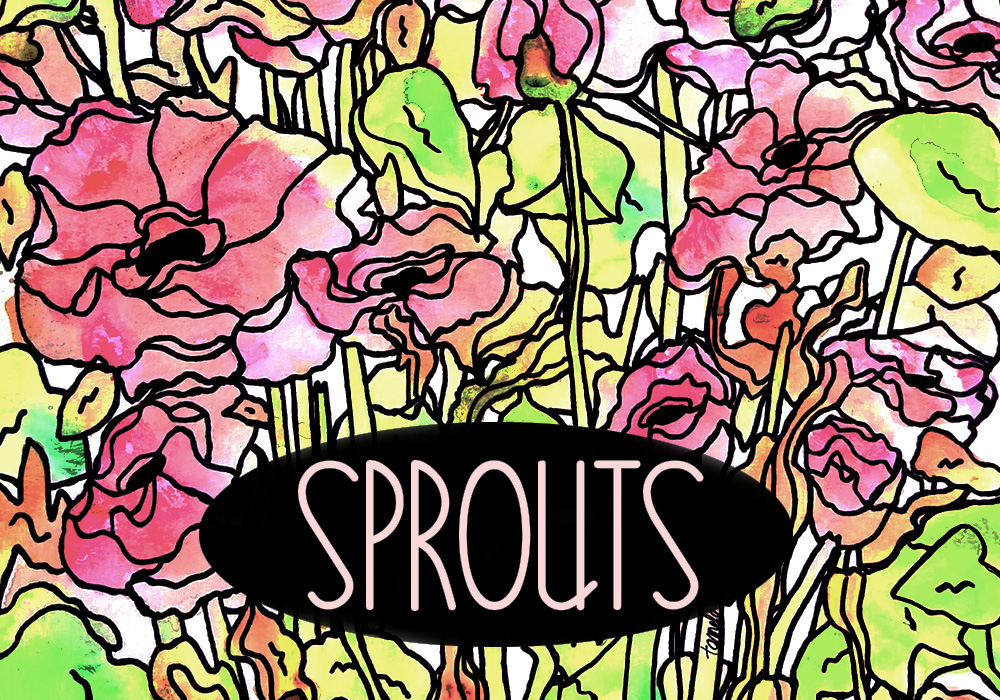 "This is what the kingdom of God is like. A man scatters seed on the ground. Night and day, whether he sleeps or gets up, the seed sprouts and grows, though he does not know how." Mark 4:26-28
A book of devotions by writers and artists of faith about spiritual growth, renewal, hope, and transformation.
This beautiful logo for our book project above is from Tamela Blessed Art, a creative who also writes about her faith journey. "I relate with flowers because they grow through adversity. A flower sprouts through darkness and grows towards the light. I often use black as a way to express that beauty can stem from darkness, and darkness can lead to something beautiful."
Many artists create their work from a place of faith but have few outlets to talk about that side of their work.
Maybe you have drawers full of mediations you've written, poetry, or art-- What if we opened that drawer, dusted off our work and reconsidered who might be encouraged by this work?
We've all learned from so many experiences; we've tried to capture those teachable moments in our art or our writing. Selected entries will become this beautiful book of meditations. Your work from a dark day could make the road easier for someone else. Let's take all these forgotten seeds and let them sprout.
Format: Paperback and ebook.
Copyrights: The rights to your individual devotional writing will stay with the author after this single publication. You must be the author or artist with the copyright to submit this work.
Costs: to enter chose a reading fee to pay for this Submittable service which will keep track of all our entries and allow us to send follow up forms without losing any data. Submittable is also an excellent place for you to discover other art and writing opportunities including ones from Flying Ketchup Press. --No Worries. You will hear back either way, within 16 weeks of the contest closing. Submit as many times as you like.
Ready to submit? You can submit up to 5 devotionals and/ or 5 art images per entry.
Word Count: Each devotional must be under 800 words, but they can be in the same document.
All Submissions: At the heading of each devotional put the following information below as it applies to your entry listed for each piece. Make sure the title of your uploaded images or documents includes your first and last name plus title.
Example: "McCannP-Marigold.jpg"
Your Name: Polly McCann
Title: Only One
Season/ Month: August
Verse: Mark 4:26
Quote: n/a
Natural or Color Elements: Marigolds/ Orange
Word count: 490
Sample:
I came back to our house after being away for four months. The repairmen had rebuilt it after a fire, but the garden had been left for weeds right after the seedlings were planted. I looked around and to my surprise, I had squash and corn and armfuls of zucchini. The marigold seeds I had planted into a large terra cotta flower pot had grown into a fierce little tree; its roots sunk through rooted in the ground underneath. My best effort couldn't lift it up. That's when I wrote the following:
Let's say that every attempt I made to help others, to minister, to spread the good news—failed…except one. Let's say one little thing I managed to do took root even if I wasn't there to make it grow. Then I'm okay with that. If God can take one marigold and turn into a tree without my help, then what can he do with my life of several decades and my constant desire to serve him? Without me, this tree took root. If only one thing I plant gets through—one thing breaks through the mire and grows into something beautiful then that one thing is more than enough.
Since that time, I've forgotten, abandoned projects or lost many people and things that were my security: my house again to other circumstances, my grandmothers, my dad, a child, family, friends, and many dreams. I've failed at many things. I've succeeded at a few. But I keep planting new things. I forgot that this little devotional story was inside of me and I was living it out day by day with a fierce determination. Since I wrote that paragraph almost a decade ago, I opened an art studio, an art gallery and now a publishing company. Throughout all those things I've been powered by grace and a lot of prayer. I'd like to dig out a bit of that beautiful hope and sustenance and share it with others. How about you? Maybe you feel the same way.